SCS Series 1-Passage Rotary Unions & Joints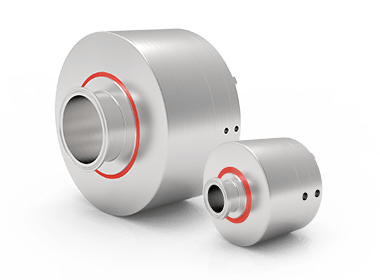 Configurations
Part #
Connection
Passage Size
Diameter
Length
Through Bore
Min. Torque*
Part Downloads
Information
SCS-605010
3/4" Type A ASME-BPE
0.620"

[16.0 mm]

2.690"

[68.3 mm]

3.950"

[100.2 mm]

None
10 in-lbs

[1.13 Nm]

Get Quote
SCS-606010
1" Type A ASME-BPE
0.870"

[20.0 mm]

3.440"

[87.4 mm]

4.100"

[104.0 mm]

None
25 in-lbs

[2.82 Nm]

Get Quote
SCS-608010
1.5" Type B ASME-BPE
1.372"

[32.0 mm]

4.440"

[112.8 mm]

4.640"

[117.9 mm]

None
40 in-lbs

[4.52 Nm]

Get Quote
SCS-609010
2" Type B ASME-BPE
1.870"

[50.0 mm]

5.440"

[138.2 mm]

4.990"

[126.7 mm]

None
60 in-lbs

[6.78 Nm]

Get Quote
SCS-610010
2.5" Type B ASME-BPE
2.370"

[66.0 mm]

6.690"

[169.9 mm]

5.610"

[142.4 mm]

None
140 in-lbs

[15.82 Nm]

Get Quote
SCS-611010
3" Type B ASME-BPE
2.870"

[81.0 mm]

7.940"

[201.7 mm]

6.810"

[173.1 mm]

None
220 in-lbs

[24.86 Nm]

Get Quote
SCS-613010
4" Type B ASME-BPE
3.830"

[100.0 mm]

8.940"

[227.1 mm]

7.430"

[188.8 mm]

None
340 in-lbs

[38.41 Nm]

Get Quote
*Minimum torque required to rotate based on zero pressure with Oil/Hydraulic media (or Air/Gas media for SPS Series). Required torque to rotate may be greater when using other media types or dry running. For specific torque requirements, please contact DSTI to discuss your application.
Technical Specifications
Maximum Pressure
200 PSI

[15 BAR]
Temperature Range
0° F to 220° F

[-18° C to 105° C]
Suitable Media*
Air/Gas, Chemical, DI/Tap Water, Food-Grade, Water/Glycol

Housing: Material (Plating/Coating)
Stainless Steel
Shaft: Material (Plating/Coating)
Stainless Steel (TDC)
*Some applications using Chemical media may require alternative sealing materials. Please consult with DSTI for approval. All values listed under Technical Specifications are dependent on a combination of all application parameters. Please note operational life is dependent upon both rotational speed and duty cycle. Contact DSTI if your application requires operating close to the maximum rotational speed with a continuous duty cycle. Applications with temperatures above 220° F (105° C) require alternative seal materials. The use of Water media with temperatures above 212° F (100° C) require alternative seal materials. Please consult with DSTI regarding your specific application requirements.
Available Options
Custom Modifications
Easier and less expensive than you may think. We can modify our standard products to fit your project requirements.
Learn More
Custom Slip Ring Integration
Our team works directly with our slip ring partners to design custom electrical slip rings to meet your exact requirements.
View Options
Questions?
Our experts are here for you!
Contact Us