Custom Rotary Union Project: QB-1021001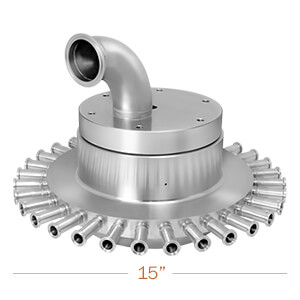 Industry:

Food & Beverage

Media Type(s):

Food-Grade

Material:

Stainless Steel

Max. Pressure(s):

30 PSI [2 BAR]

Passage Size(s):

2.500" [63.5 mm]

Through Bore:

0.880" [22.4 mm]

Diameter:

14.900" [378.5 mm]

Length:

7.880" [200.2 mm]
Description
Single passage rotary union / distributor designed for a rotary filling system used in tea, water, and juice bottling. Features included a custom internal timing control feature for increasing/decreasing flow during specified degrees of rotation.

Additional features include a specialized design with no fluid stagnation points, full penetration welds, and FDA approved bearing grease.
Get Started
Let's talk about your project. Our experts are here for you!
Contact Us